Africa is under pressure to provide suitably sidled and trained candidates to meet the employment needs as a result of economic growth. Add to this the ongoing discoveries of natural resources, the growing populations, the related infrastructural demand, the growing Global Market demand for the mineral resources and wealth that lies beneath the African soil, the quota system which does not allow companies to bring in the lacking skills in sufficient numbers and a fairly challenging problem is evident. 
Fortunately all African governments want the educational development and upliftment of their people so that their people can become more employable and potentially assist the country in growing the GDP. 
This provides an ideal opportunity for companies operating in the African market to uplift the communities they operate in, to provide job opportunities to suitably skill people and to align themselves with local government requirements and expectations
We come into the country and source candidates from local communities, assess them, select those with potential, provide them foundational training, basic workplace readiness skills, provide semi-skilled technical training that could eventually even lead to full qualifications for suitable candidates. 
Being a certified, accredited Training Institute providing training across all levels, from literacy & numeracy to Honours degrees, and offering these interventions for the past 30 years, we are well positioned to assist companies to meet their training needs as well as tailor-making training interventions to client specifications.
We can provide the training across a variety of disciplines, from engineering to mming to production management skills, to supervisory and management skills, to fundamental skills and literacy & numeracy, to wholesale and retail skills to training disabled people in a variety of skills.
Training durations can vary from short courses of a couple of days to courses of medium duration to provide basic skills training to apprenticeships/learnerships that can be of 3 years duration. 
Due to both the various levels of training offered as well as the variety of disciplines, we are capable of providing a progression of learning that encourages learners to progress in their learning activities and advance their skills and training levels. 
Not only do we provide the training, we can also provide training facilities from a fully equipped bricks and mortar engineering training centre or a conversion of current infrastructure to 'flat pack' classrooms to portable containerised technical training solutions which are ideal to provide training infrastructure in remote rural areas. 
We can also provide a unique competency management system which measures a person's knowledge, skills, experience and education to their role in the organisation which allows training gaps to be identified, a career path to be developed and managed.
From drawing up Memoranda of Understanding with local providers and accrediting authorities, to achieving accreditation, establishing training centres, ensuring adherence to quality standards, to negotiating with local government, we provide a one-stop training solution specific to the company and country requirements. 
We can also provide Psychometric Assessments, wherein our assessment methodology is tool-independent, holistic and competency-based. We have access to a vast number of psychometric tools, to assess a range of identified competencies. These tools vary from personality questionnaires, cognitive and ability evaluations right up to competency assessments.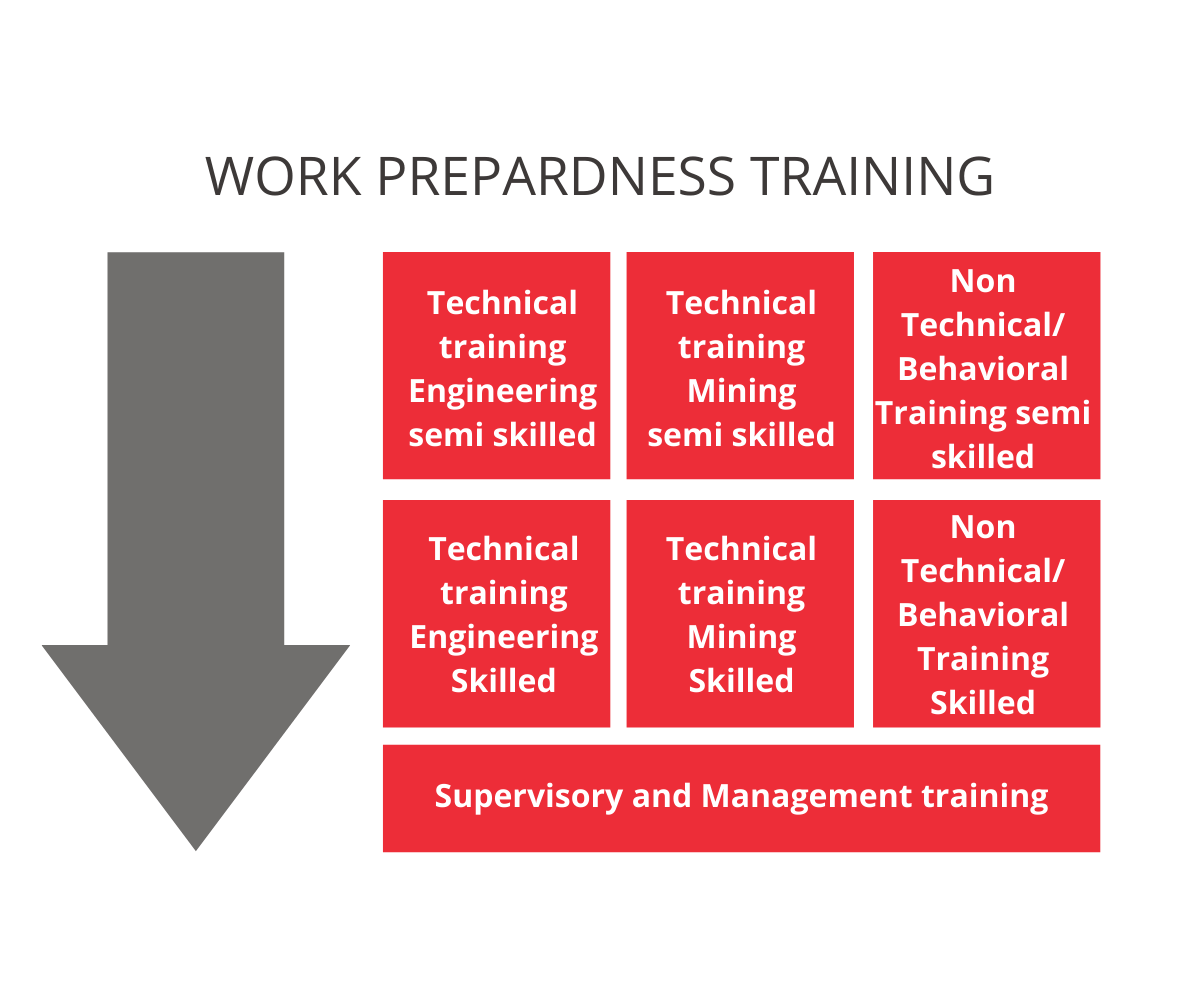 In order to ensure that the local population is 'ready to work' (particularly in the extreme rural areas where very few people have ever been formally employed) and to make them employable, a work readiness programme has been developed. The learners are initially assessed via psychometric assessments to determine their learning potential. Learners are then trained in a variety of modules from Personal Protective Equipment, Basic Hand Tools, Working at Heights, HIV Aids Awareness, Basic First Aid, Living Well, Basic Life Skills, Communication Skills and Symbolic Signs, Proper Job Instruction, Occupational Hygiene, Safety English for a construction environment, Basic Scaffolding etc. 
The full duration of the intervention is 24 days and training is provided in the relevant 'business' language e.g. Portuguese, English etc. and local interpreters provide simultaneous translations into the local languages. Training is provided to 12 – 15 learners per class and learners are assessed on an ongoing basis during the training.